Global Presence @ Local Expertise | 全球化服務 @ 本地化評審
Since 1985, DQS (Deutsche Gesellschaft zur Zertifizierung von Managementsystemen) has been the trusted certification and assessment partner for quality-focused companies around the world – companies who are serious about organizational health and long-term success. With audits, assessments and certifications, we help you achieve sustainable business success.
自1985年,DQS(中文譯爲 德國體系認證集團)成為全球以質量為本企業可信賴的認證伙伴。我們關注客戶的組織健康和長遠目標。通過審核、評估和認證,我們協助企業在商業上取得可以持續的成功。
股東結構 | Shareholder Structure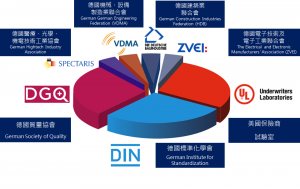 All DQS ultimate shareholders are registered as Non-Profit Organizations.
Our shareholders are the guardians of DQS corporate values and its high quality approach. DIN ensures direct access to and involvement in the newest international standard developments. DGQ and UL promote excellence in education and competence of our personnel, consistently worldwide. Specially, we invite customers to hold seats at the DQS Board of Shareholders. Four major German Industry associations provide us with an inside view of the customers' interest, as well as the experience and knowledge of their industries, therefore mandate our pragmatic customer focus and excellent service.
DQS 所有最終股權持有者都是註冊的非牟利組織。
股東是 DQS 企業價值及品質的監護者。DIN 保證我們直接參與國際標準的發展。 DGQ 和 UL 促進我們全球員工的能力卓越及一致。特別地,我們邀請客戶成為持份者,來自德國的四個主要行業協會,為我們帶來巿場反餉、行業經驗及知識,確保我們務實地遵從客戶關注和提供優良服務。
DGQ: Professional Training 專業培訓
DIN: Standard Development 標準開發
IQNet: Issued Certificates 認證證書