A new edition of FSSC 22000 will be published in a few months, addressing the publication of standard ISO 22000: 2018, which is used as a basis for the GFSI benchmarked certification scheme.
The standard consists of three components: ISO 22000, PRPs and the additional FSSC 22000 requirements. The international standard ISO 22000 forms the basis for FSSC 22000 and outlines the requirements for management. The sector-specific PRPs (Pre-Requisite-Program) makes sure that FSSC 22000 is applicable for almost all companies in the supply chain. The additional FSSC 22000 requirements ensure consistency and integrity and regularize the administration of FSSC 22000.
Moreover, there is an optional quality management module, which includes all the integrtable elements of ISO 9001 into the FSSC 22000 certification. This way it is possible to combine a Food Safety Management Certification with a Quality Management Certification.
FSSC 22000 is applicable for the following sectors: food manufacturing, food packaging manufacturing, animal feed production, farming and newly also transport and storage, catering and retail and wholesale. GFSI benchmark is valid for food manufacturing (C), animal feed production (D), transport and storage (G), food packaging manufacturing (I) and biochemicals (K).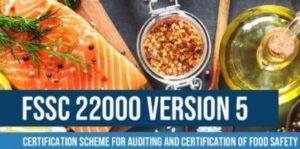 MAIN CHANGES to VERSION 5
The important changes in FSSC version 5 correspond with the changes to ISO 22000:2018.
The new version adopts the so-called High-Level Structure (HLS). Users of ISO 9001:2015, ISO 14001:2015 and ISO 45001:2018 are already familiar with this structure. In practice, the change in structure will make it easier for organizations to combine different management system standards.
The new version of ISO 22000 is a risk-based standard. It will distinguish risks at the operational level l, through the Hazard Analysis Critical Control Point approach (HACCP), as well as at the strategic level of the management system and its ability to reach its specified goals as such.
The standard now consistently distinguishes two Plan-Do-Check-Act (PDCA) cycles. The first applies to the management system as a whole, while the second, within it, addresses the operations described in Clause 8, which simultaneously cover the HACCP principles. This is illustrated in the graph below.
TIMELINE
The new version of FSSC 22000 is anticipated to publish in May 2019.
Audits against the FSSC 22000 Scheme requirements V4.1 are allowed no later than December 31st of 2019.
All issued FSSC 22000 V4.1 certificates will become invalid after 29 June 2021.
Upgrade audits against FSSC 22000 V5 shall be conducted between 1st January 2020 and 31st December 2020.
DQS – Your partner for FSSC 22000 certification
Some and more leaders in the food industry are requiring their suppliers to get management system certification against FSSC 22000 rather than ISO 22000. If you have any specific questions on FSSC 22000 Ver 5 or ISO 22000:2018 food safety management system certification, please feel free to contact us.
新版的FSSC 22000標準將在幾個月內發行。修訂的主要原因是2018年出版了新版標準ISO 22000:2018,該標準被用作GFSI基準認證計劃的核心。
FSSC 22000標準由三部分組成:ISO 22000,PRPs及附加的FSSC 22000要求。 國際標準ISO 22000構成了FSSC 22000的基礎,並概述了管理要求。 行業特定的PRPs(先決條件計劃)確保FSSC 22000適用於食物供應鏈中的幾乎所有公司。附加要求確保了FSSC 22000的一致性和完整性,並規範了其管理。
此外,還有一個可選的質量管理模式,其中ISO 9001中不可或缺的元素被整合到FSSC 22000中。 通過這種方式,將可以結合食品安全管理體系認證和質量管理體系認證。
FSSC 22000適用於以下業務:食品製造、食品包裝製造、動物飼料生產、農業和新運輸和儲藏、餐飲、零售和批發。 GFSI基準適用於食品製造(C)、動物飼料生產(D)、運輸和儲藏(G)、食品包裝製造(I)和生物化學品(K)。
第五版的主要變更
FSSC 22000第五版中的重要變更都與ISO 22000:2018的變更相關。
新版本採用高級結構(HLS)。ISO 9001:2015,ISO 14001:2015和ISO 45001:2018的用戶早已熟悉這種結構。 在實踐中,此變化將使組織更容易地結合實施不同的管理體系標準。
ISO 22000的新版本也是基於風險的標準。 該標準將區分運營層面的風險 [通過危害分析關鍵控制點方法(HACCP)],以及管理系統的戰略層面及其達到其指定目標的能力。
該標準依舊被區分為兩個 計劃 – 執行 – 檢查 – 行動(PDCA)循環。 第一個適用於整個管理體系,第二個適用於第8條中描述的操作,該操作同時涵蓋HACCP原則。
升級時間點
FSSC 22000的新版本預計將於2019年5月發布。
對FSSC 22000計劃要求V4.1的審核僅允許在2019年12月31日之前進行。
所有已頒發的FSSC 22000 V4.1證書將在2021年6月29日之後失效。
針對FSSC 22000第五版的升級審核應在2020年1月1日至2020年12月31日之間進行。
DQS – 您的FSSC 22000認證合作夥伴
越來越多食品行業的公司要求他們的供應商獲得FSSC 22000而不是ISO 22000的管理體系認證。如果您對FSSC 22000 Ver 5或ISO 22000:2018食品安全管理體系認證有任何疑問,歡迎聯繫我們。
Referenced source: DQS CFS