Dear customer,
Thank you for your trust in DQS' audit and certification services.
To improve our service, we are redesigning our customer satisfaction surveys to a digital approach.
In this approach, we place emphasis on enabling your prompt feedbacks with low effort.
Shortly after a future regular audit, you will receive an invitation to evaluate the auditors' performance.
After the service procedure is completed, such as report review or issuance of certificate (when applicable), you will receive a second customer satisfaction survey on DQS' overall performance.
It will be officially started in January 2022, with pilot run in Dec 2021.
In case that your contact person is changed in the future, kindly inform us for update in time.
In case that you don't receive the survey, please let us know.
We thank you for openly sharing your feedback with us, which is valuable and important for the continual improvement of our service.
If you have any questions, please feel free to contact us.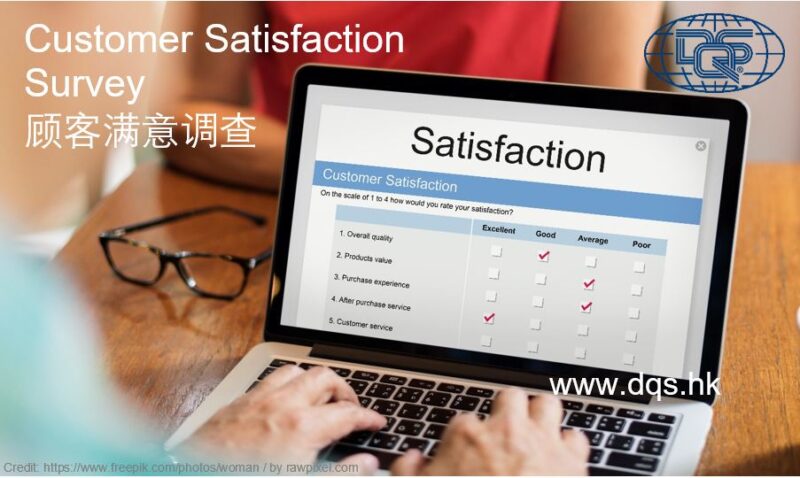 尊敬的顾客,
感谢您对 DQS的审核和认证服务的信任。
为了改善我们的服务,我们正在将客户满意度调查重新设计为电子化的过程。
在新方法中,我们重视让您能进行及时而简化的反馈。
在将来的例行审核结束后不久,您将收到对审核员的表现进行评估的邀请;
在服务程序完成后,例如完成报告审批或颁发证书 (如适用) ,您将收到关于 DQS 整体表现的第二次满意度调查。
这将在2022年1月正式启动,并在2021年12月试运行。
今后如贵公司的联系人发生变动,麻烦及时通知我们更新记录。
万一您没有收到调查问卷,请告诉我们。
我们感谢您的坦诚反馈,这对我们的服务持续改进很有价值、也非常重要。
如果您有任何疑问,请随时与我们联系。