At the IATF 2021 Spring meeting, IATF voted to welcome Geely Group as a new OEM voting member of IATF. Geely Group is the first Asia member to join the IATF. Its is a significant milestone in the history of the IATF.
Geely Group has been requiring all its suppliers to be certified to IATF 16949, as a continued commitment to the IATF scheme.
Before the adoption of Geely Group , the IATF OEMs are listed below.
BMW Group, Daimler AG, Ford Motor Company, Geely Group, General Motors, Jaguar Land Rover (JLR) Limited,  Groupe Renault, Stellantis (ex FCA), Stellantis (ex PSA), and Volkswagen AG.
Referenced source: IATF website.
在國際汽車工作組 (IATF) 的2021春季會議上,原有成員們通過了投票歡迎 吉利集團 成為IATF新的整車製造商 (OEM) 投票成員。 吉利集團成為第一個加入IATF的亞洲成員,這是IATF歷史上的一個重要里程碑。
吉利集團要求所有供應商都獲得 IATF 16949 認證,顯示了其對IATF認證方案的持續支持。
在吉利集團加入之前,IATF的整車製造商成員如上所列。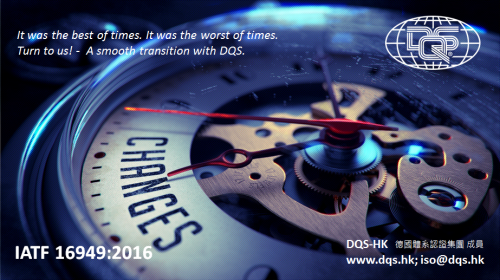 About DQS  / 關於DQS
DQS is the 1st Certification Body approved by IATF for ISO/TS 16949 certification service, which is replaced by IATF 16949 certification at present. Meanwhile, DQS Academy provides professional IATF 16949:2016 Internal Auditor and Core Tools Training Courses and Online Skill Test for Internal Auditors.
DQS是全球第一個得到IATF認可向客戶提供ISO/TS 16949(目前已被替代爲 IATF 16949)認證服務的機構。
同時,DQS 學堂 提供專業的IATF 16949:2016內審員和核心工具培訓,以及內審員線上技能測試。
Copyright 版權聲明
The copyright of description approach in this news is reserved by DQS HK. Any republication with or without modification shall indicate the source.
此新聞的描述方式的版權歸DQS HK所有。如果轉載或基於此修改發佈,請註明出處。