International Personnel Certification Association's "IPC Management System Auditors certification scheme" received endorsement as a sub-scope of the International Accreditation Forum Multilateral Recognition Arrangement (IAF MLA) from 30 October 2017.

It is the first personnel certification scheme ever to have achieved official endorsement by the IAF.  Management system (like ISO 9001 QMS or ISO 14001 EMS) auditor certificates by a Personnel Certification Body (like DGQ or PECB), accredited by an IAF MLA signatory (like IAS, ANAB, or DAkkS), ensures worldwide recognition.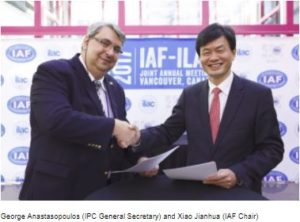 The International Personnel Certification Association (IPC), is the world association of personnel certification bodies. Through its membership IPC represents more than 80,000 certified management system auditors operating in more than 84 countries all over the world. 
For example, DGQ (shareholder of DQS), PECB, and CCAA are full members of IPC.
The International Accreditation Forum (IAF) is the world association of conformity assessment accreditation bodies in the fields of management systems, products, services, process, persons and other similar programs of conformity assessment. IAF currently has 81 AB Members, 19 Association Members, and 6 Regional Accreditation Group Members.
Source: IAF.