DQS Academy has established cooperation with HKPC to provide a series of public training courses in 2019. The 1st planned joint course will be IATF 16949:2016 Internal Auditor  Training on Mar 20-21, 2019 in HKPC building. You can register for it with HKPC.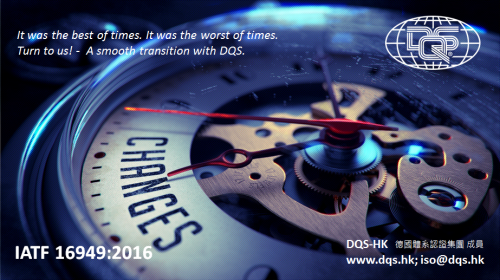 The course is developed by DQS Academy and distributed by HKPC, with support to the event by HK Auto Parts Industry Association. The course will be lectured in Chinese with materials in English by DQS tutor(s) of IATF recognized Automotive Auditor qualifications. During the training courses, the participants will have the opportunities to exchange technical know-hows by active participation in the discussions. The learning effectiveness will be strengthened by online exams at DQS Academy website.
DQS issued the 1st ISO 9001 certificate in Germany, and is the 1st Certification Body recognized by IATF for ISO/TS 16949 certifications in the world. The organizations certified to this standard should have been transitioned to IATF 16949:2016 certification before Sep 15, 2018.
More courses are available at DQS Academy, including APQP, FMEA, SPC, MSA, PPAP, VDA 6.3 Process Audit, VDA 6.5 Product Audit, CQI-11 Plating System Assessment (PSA), etc.
DQS學堂 與 香港生產力促進局 建立了合作關係, 計劃在2019年提供一系列公開培訓課程。第一期的聯合課程,IATF 16949 內部審核員培訓,計劃于2019年3月20日至21日在 香港生產力促進局大樓 舉行 。你可聯絡香港生產力促進局登記報名。
本課程由 DQS學堂 開發,由生產力促進局 組織提供,並得 香港汽車零部件工業協會 的支持。課程配備英文資料,並由具備 IATF 認可的汽車業審核員資格的DQS 講師以中文授課。在培訓班期間, 學員將可以通過積極的討論參與進行技術交流。學習效果將通過 DQS 學堂 的線上考試進一步加強。
DQS 頒發了德國的第一張 ISO 9001 認證證書, 同時是全球第一家獲得 IATF 認可提供 ISO/TS 16949 認證服務的認證機構。通過該標準認證的組織應在2018年9月15日之前過渡到 IATF 16949:2016 認證。
按此瞭解 DQS 學堂 提供的更多課程,包括 APQP、FMEA、SPC、MSA、PPAP、VDA 6.3 過程審核、VDA 6.5產品審核、CQI-11 電鍍系統評審,等。