Project Description
Rail and Transportation – ISO/TS 22163:2017
The liberalization of national railway networks is gathering momentum, and along with it comes increased competitive pressure. This poses major challenges, and not only for the operators of railway networks. Rail vehicle manufacturers and suppliers need to meet the rising requirements that an increasingly global design and production environment places upon the quality of rolling stock.
International Railway Industry Standard
IRIS is based on the internationally recognized quality management standard ISO 9001, supplemented by the specific requirements of the rolling stock industry. Companies focused on development and/or maintenance, as well as manufacturers in this business sector can achieve an IRIS certification. With this certification, they can then be registered in the UNIFE database, which is accessed by the purchasing agents at all major rail vehicle manufacturers www.iris-rail.org.
In April 2006 – one month after publication of the standard – DQS issued the first-ever IRIS certificate worldwide. Since then, we have actively participated in the working group of UNIFE (Association of the European Rail Industry) on further development of IRIS. Today, we are one of the leading certifiers for railways. Almost a quarter of the companies certified to IRIS worldwide are customers of DQS. By the same token, more than one-fifth of all UNIFE authorized auditors work for DQS – making us one of the top certification bodies in the railway vehicle industry.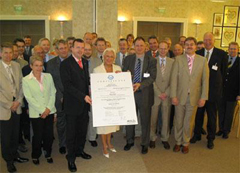 HARTING Technology Group is the first company in the world to be certified to IRIS, the new standard for the railway industry, by DQS. HARTING, a company specialized in electrical and electronic connectivity and network technology, has been certified to ISO 9001 since the year 1991 already. This standard provided the basis for the development of IRIS, where the railway industry specified its particular requirements. Unlike ISO 9001, an IRIS evaluation is based on scoring. During the assessment in April 2006 HARTING surpassed the required level of fulfillment by far.
With more than 2,000 employees in 23 countries, HARTING Technology Group develops, designs, and manufactures products for a wide range of applications. Transportation technology is one of the company's main pillars, next to mechanical engineering, factory automation and telecommunications. Mrs. Margrit Harting, manager executive and partner of HARTING KGaA, states: "The new IRIS certification represents the next step in cooperation with the railway industry for our company."
The ISO/TS 22163:2017 standard has been released in May 2017.It is to replace the current IRIS standard (Rev 2.0) and targets in a first instance at guaranteeing an even better quality management, increased process efficiency and an excellent product quality. The transition phase will start in May 2017, along with the release of the new ISO/TS 22163:2017. Read the below Transition Guideline for more details. The clients certified to IRIS Rev 2.0 shall be transitioned to the new standard before Sep 14, 2018.
Benefits
Concrete rail-specific requirements lead to process and quality improvements
Synergies created from integrated ISO 9001 and IRIS assessments
Internationally recognized certificate
Guaranteed competitiveness in the rail vehicle industry
Registered as an IRIS certified organization in the UNIFE database, which is accessed by the purchasing agents at all major rail vehicle manufacturers
Registered in the Internet-based DQS Inc. customer database