Project Description
IATF 26262 Functional Safety Management System Certifications
汽車功能安全管理體系認證
ISO 26262 is to address the sector specific needs of electrical and/or electronic (E/E) systems within road vehicles. It applies to all activities during the safety lifecycle of safety-related systems comprised of electrical, electronic and software components. In the standard, Functional Safety is defined as the "absence of unreasonable risk due to hazards caused by malfunctioning behavior of electrical/electronic systems".
.
With the trend of increasing technological complexity, software content and mechatronic implementation, among others there are increasing risks from systematic failures and random hardware failures, these being considered within the scope of functional safety. ISO 26262 includes guidance to mitigate these risks by providing appropriate requirements and processes.
.
The achievement of functional safety is influenced by the development process, the production and service processes and the management processes. To achieve functional safety, ISO 26262:
provides a reference for the automotive safety lifecycle and supports the tailoring of the activities to be performed during the lifecycle phases, i.e., development, production, operation, service, and decommissioning;

provides an automotive-specific risk-based approach to determine integrity levels [Automotive Safety Integrity Levels (ASIL)];

uses ASILs to specify which of the requirements of ISO 26262 are applicable to avoid unreasonable residual risk;

provides requirements for functional safety management, verification, validation and confirmation measures; and

provides requirements for relations with suppliers.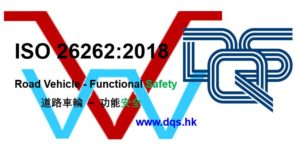 Since the original publication of ISO 26262:2011, as an adaptation of IEC 61508, on Nov 15, 2011, the industry has undergone several significant changes. The rapid deployment of Automated Driving connected technologies, together with the associated cybersecurity threat has seen growing inadequacies in the original iteration of ISO 26262. Accordingly, ISO 26262:2018, the second edition and update to the standard, has been published in Dec 2018.
The courses will include ISO 26262 Application Training, ISO 26262 Professionals, etc。
Certification for Management System
More and more automotive customers are requesting their suppliers to implement process management based on ISO 26262 standard. We will provide audit and certification for automotive functional safety management system against ISO 26262 on the basis of ISO 9001, with focus on design and development and/or production processes.
Product test-based certification is a sector different from process management.
Benefits | 益處
Enjoys global acceptance of automotive manufacturers
符合全球主要汽車製造商的要求
Improves your overall competitive ability
增進公司競增力
Ensures uniform quality on a global scale
確保品質符合全球規範
Creates transparency of processes
優化流程使其透明化
.
Related News 相關新聞:
DQS HK
More and more electronic functions are applied in vehicles nowadays. A lot of functions can be achieved by the touch of a button or through [...]
DQS HK
ISO 26262 Road Vehicles – Functional Safety Standard is to address the sector specific needs of electrical and/or electronic (E/E) systems within road vehicles. This adaptation applies [...]