Project Description
VAP Audits for RBA (EICC) 社會責任審核
Who is RBA?
The Responsible Business Alliance (RBA), formerly the Electronic Industry Citizenship Coalition (EICC) found in 2004, is a nonprofit organization comprised of electronics, retail, auto and toy companies committed to supporting the rights and wellbeing of workers and communities worldwide affected by the global supply chain. RBA members commit and are held accountable to a common Code of Conduct and utilize a range of RBA training and assessment tools to support continual improvement in the social, environmental and ethical responsibility of their supply chains.
In October 2017 the EICC became the RBA to reflect its expanded reach and influence. Now the RBA is comprised of more than 150 companies with combined annual revenue of over $5 trillion, directly employing more than 6 million people. In addition to RBA members, thousands of companies that are Tier 1 suppliers to those members are required to implement the RBA Code of Conduct. More than 3.5 million people from over 120 countries contribute to the manufacture of RBA members' products.

What is RBA Code of Conduct?
The RBA Code of Conduct is a set of social, environmental and ethical industry standards. The standards set out in the Code of Conduct reference international norms and standards including the Universal Declaration of Human Rights, ILO International Labor Standards, OECD Guidelines for Multinational Enterprises, ISO and SA standards, and many more. While the Code of Conduct originated with the electronics industry in mind, it is applicable to and used by many industries beyond electronics.
Version 6.0 of the RBA Code of Conduct was ratified in 2017 and went into effect Jan. 1, 2018. Version 6.0 can be viewed here in English and here in Simplified Chinese.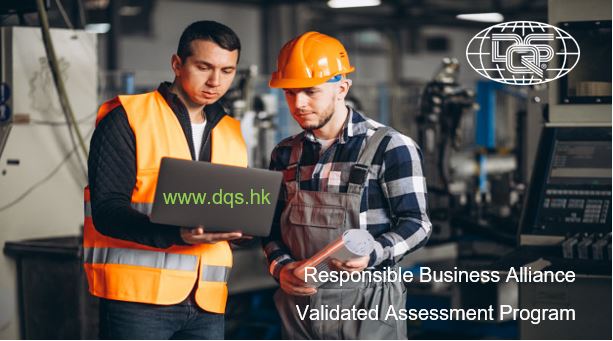 The code consists of five main perspectives:
Labor Standards
Health & Safety
Environment
Ethics
Management Systems
In addition, to fully understand the detailed RBA Code of Conduct requirements, please view version 6.0.1 of the RBA Code Interpretation Guidance, which can be found within the public version of the VAP Operations Manual here in English.
What is VAP?
The RBA Validated Assessment Program (VAP) is the leading standard for onsite compliance verification and effective, shareable audits. A particular VAP audit is to done by an audit firm approved and assigned by RBA.
The audit report will be reviewed by RBA. After the audit and the closure of NCs, in any, the audited site will be eligible for the VAP recognition program and a certificate by VAP.
The recognition program is a way for suppliers to highlight their commitment to social responsibility, and has three levels:
Platinum: for factories with a minimum VAP score of 200 and all Priority, Major and Minor findings closed
Gold: for factories with a minimum VAP score of 180 and all Priority and Major findings closed
Silver: for factories with a minimum VAP score of 160 and all Priority findings closed
Audit Firm
DQS is an approved audit firm by the Responsible Business Alliance (RBA). Contact us for more information about the audits.
誰是負責任商業聯盟(RBA)?
"負責任商業聯盟"(RBA)前身為"電子行業公民聯盟"(EICC)。成立於2004年,是一家由電子,零售,汽車和玩具公司組成的非營利組織,致力於支持世界各地受到全球供應鏈影響的工作人員和社區的權利及福祉。聯盟成員承諾並對其行為準則負責,亦會使用一系列RBA培訓和評估工具來持續改善其供應鏈在社會,環境及道德上的責任。
在2017年10月,電子行業公民聯盟改名成為了"負責任商業聯盟",以反映其擴大了的影響範圍及影響力。現在,"負責任商業聯盟" 由150多家公司成員組成,它們的年度營業額合共超過5萬億美元,僱員超過合共超過了600多萬人。除聯盟成員外,還有數千家為這些成員的一級供應商公司亦必須實施"RBA行為準則"。RBA產品總共由來自120多個國家超過350萬成員的參與來打造。
什麼是RBA行為準則?
RBA 的行為準則是一套社會、環境及道德行業標準。"行為準則"中規定的標準參考了國際規範和標準,包括"世界人權宣言"、"國際勞工組織國際勞工標準"、"經合組織跨國企業準則"、國際標準化組織和社會責任標準等等。雖然"行為準則"起源於電子行業,但它適用於電子行業以外的許多行業。
"RBA行為準則" 6.0版於2017年獲得批准,並於2018年1月1日生效。按此可以查看其英文版本和簡體中文版本。
該準則包含五個主要觀點:
此外,如要完全了解RBA的行為準則的詳細要求,請查看RBA規則解釋指南的6.0.1版本,該指南可在VAP操作手冊的公共版本中找到,可按此查看其英文版。
什麼是驗證評估計劃(VAP)?
RBA "驗證評估計劃"(VAP)是現場合規性驗證和有效的及可共享的領先審核標準。每一次VAP審核由RBA分配給認可的審核公司進行。
審核報告將由RBA審核。在完成審核和不符合項目關閉之後,經審核後的場地將有資格獲得VAP認可計劃和VAP證書。
此認可計劃是給供應商突出其對社會責任的承諾的一種方式,包括有三個層次:
白金:對於VAP評分最低為200且所有優先級,主要和次要調查結果均已關閉的工廠
黃金:對於VAP評分最低為180且所有優先級和主要調查結果均已關閉的工廠
白銀:適用於VAP評分最低為160且所有優先結果均已關閉的工廠
審核公司 
DQS是負責任商業聯盟(RBA)認可的審核公司。有關審核的更多信息,請聯繫我們。
Remark: The marks of RBA and EICC are registered marks of RBA.
DQS HK
The following is about some updates to some EU regulations related to hazardous substances. RoHS RoHS 2.0 (Directive 2011/65/EU) has become effective from Jan 3, 2013, with full implementation to electrical and electronic products in [...]
DQS HK
The following is some recent updates to the measurement equipment calibration related regulations in Mainland China. The information is presented in Chinese and for reference only. 以下是中国内地近期与计量管理相关法规的一些重要更新,以简体中文显示并仅作为参考信息。 2021年11月25日,中国内地颁布《国务院关于开展营商环境创新试点工作的意见》(国发[2021]24号)。其中一条是在试点城市内取消企业内部使用的最高计量标准器具的考核发证及强制检定要求。 背景 《中华人民共和国计量法实施细则》  第十条 企业、事业单位建立本单位各项最高计量标准,须向与其主管部门同级的人民政府计量行政部门申请考核。乡镇企业向当地县级人民政府计量行政部门申请考核。经考核符合本细则第七条规定条件并取得考核合格证的,企业、事业单位方可使用,并向其主管部门备案。 暂时调整适用相关内容 允许试点城市企业内部使用的最高计量标准器具由企业自主管理,不需计量行政部门考核发证,不再实行强制检定。 调整后,试点城市加强对企业自主管理最高计量标准器具的指导和事中事后监管,确保满足计量溯源性要求和计量标准准确。 首批试点城市为北京、上海、重庆、杭州、广州、深圳6个城市。 [...]