ANSI/ESD S20.20-2021 has been released in Dec 2021, to replace its former version of ANSI/ESD S20.20-2014.
What is ANSI/ESD S20.20?
ANSI/ESD S20.20 provides administrative and technical requirements for establishing, implementing, and maintaining an ESD control program.
ANSI/ESD S20.20-2021 applies to organizations that manufacture, process, assemble, install, package, label, service, test, inspect, transport, or otherwise handle electrical or electronic parts, assemblies, and equipment susceptible to damage by electrostatic discharges.
What Are the Primary Changes to ANSI/ESD S20.20-2021?
Definitions were added for ESD control items, insulator, conductor, isolated conductor, and unprotected ESDS item.
Wording for tailoring was updated.
Update made to allow qualification for ESD control items that stay on-site to be done at the lowest relative humidity (RH) on the site.
Qualification records were updated to require including supporting technical reports.
Explanation was added that the flooring/footwear system cannot use compliance verification data for qualification.
Note was added to the compliance verification plan that calibration does not imply the equipment can make measurements.
A statement that compliance verification of the grounding system is not required was added.
The insulator section was updated with a field measurement of where the ESDS item is handled.
For isolated conductors, the inclusion of non-contact electrostatic voltmeters and electrostatic field meters were included with a note on measurement issues.
ANSI/ESD STM4.2 was deleted as a qualification for worksurfaces in Table 3, "EPA ESD Control Items." This table also added point-to-point requirements to groundable static control garments and groundable static control garment systems.
Table 4, "Packaging Requirements," was added. This table summarizes ANSI/ESD S541-2019: Packaging Materials For The Protection Of Electrostatic Discharge Susceptible Items requirements.
New Section 8.4.1, "United States Department of Defense (DoD) Packaging Requirements," was added.
New Informative Annex C, "Tailoring," was added. New Informative Annex E," Statement of Direction," was added.
Transition
Certification audit against ANSI/ESD S20.20-2021 can be started from Jun 2022.
The organizations certified to ANSI/ESD S20.20-2014 can be transitioned to the new version after a transition audit, typically together with a regular audit.
Supports by DQS
DQS provides ESDA recognized certifications and audits according to ANSI/ESD S20.20 Standard.
DQS Academy provides standard understanding and internal auditor training courses to help clients understand the standards.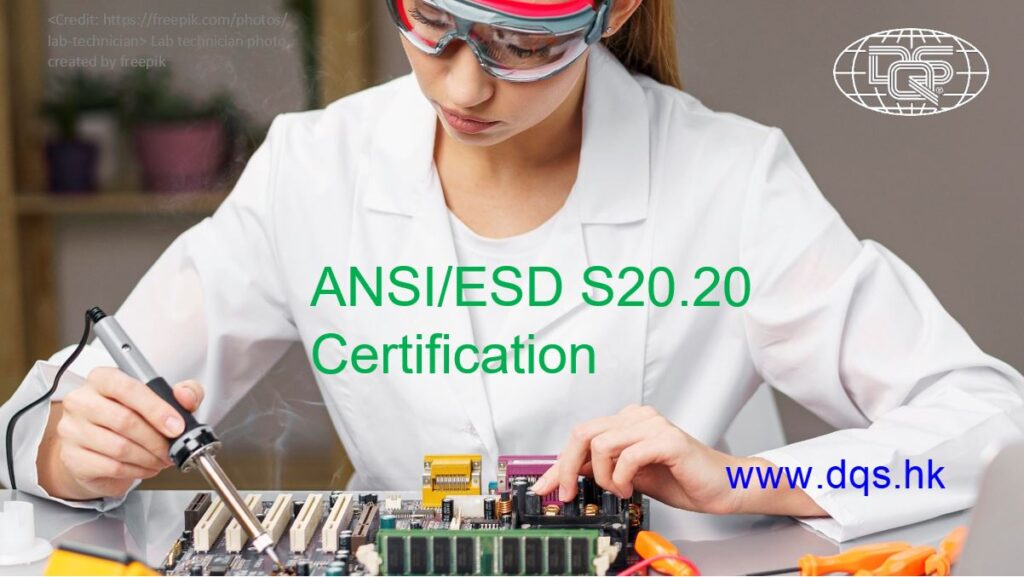 ANSI/ESD S20.20-2021 新版標準發佈
ANSI/ESD S20.20-2021 已於 2021 年 12 月發布,並取代其先前版本的 ANSI/ESD S20.20-2014。
什麼是 ANSI/ESD S20.20?
ANSI/ESD S20.20 為建立、實施和維護靜電放電 (ESD) 控製程序提供了管理和技術要求。
ANSI/ESD S20.20-2021 適用於製造、加工、組裝、安裝、包裝、標籤、服務、測試、檢查、運輸或以其他方式處理易受靜電放電損壞的電氣或電子零件、組件和設備的組織。
ANSI/ESD S20.20-2021 的主要變化是什麼?
增加了 ESD 控制項目、絕緣體、導體、絕緣導體和未受保護的 ESD敏感件的定義;
剪裁的措辭已更新;
進行了更新,以允許在現場最低相對濕度 (RH) 下對留在現場的 ESD 控制項目進行鑑定;
資格記錄已更新,要求包括支持性技術報告;
補充說明地板/鞋類系統不能使用合規性驗證數據進行鑑定;
合規性驗證計劃中添加了註釋,校準並不意味著設備可以進行測量;
增加了不需要對接地系統進行合規性驗證的聲明;
絕緣子部分已更新,對處理 ESD敏感件的位置進行了現場測量;
對於隔離導體,非接觸式靜電電壓表和靜電場表包含在測量問題的註釋中;
ANSI/ESD STM4.2 在表 3"EPA ESD 控制項目"中作為工作檯面的資格被刪除,該表還增加了對可接地靜電控制服裝和可接地靜電控制服裝系統的點對點要求;
添加了表 4"包裝要求",此表總結了 ANSI/ESD S541-2019:保護靜電放電敏感物品的包裝材料要求;
添加了新的第 8.4.1 節"美國國防部 (DoD) 包裝要求";
增加了新的信息性附件 C,"裁縫"。添加了新的信息性附件 E,"方向聲明"。
換版審核
ANSI/ESD S20.20-2021的認證審核可以從2022年6月開始;
通過 ANSI/ESD S20.20-2014 認證的組織可以在轉換審核後轉換到新版本,通常與定期審核一起進行。
DQS 的專業服務: