DQS' annual Train-the-Auditor-Trainer 2019 (TTAT) event took place on January 24-25, 2019.  About 90 experienced auditors from over 50 countries came together in Frankfurt and participated in the annual training that focused on ISO 9001 QMS, ISO 14001 EMS, ISO 45001 OHSMS, and ISO 50001 EnMS. This kick-off training will be followed by local trainings in DQS' local offices in the world, thus enabling DQS Auditors being calibrated with the same quality-oriented DQS Audit concept all over the world.
After speeches of the managing directors of DQS Holding GmbH regarding trends and expectations of DQS, the participants had the opportunity to exchange their experience, also in the framework of various workshops. Highlights were topics concerning alternative audit methods, legal requirements, agile quality management as well as the risk based approach and auditing.
Prior to the TTAT 2019, the Automotive Training (Exchange of Experience) as well as the Aerospace (AS 91xx) Training took place on January 23, 2019.  Over 50 automotive experts and trainers from all over the world gathered in Germany for the annual IATF Exchange of Experience session in order to exchange experience and getting ready for 2019 audits. Last year, DQS consolidated it´s position as one of the leading certification bodies for Automotive certification. With an excellent transition rate of more than 90% of it´s customers to the updated new IATF 16949 standard and a market share of close to 7% of IATF 16949:2016 certificates in the world, DQS demonstrated its global competence in the automotive sector in a challenging transition year.
Based on participants feedback, it was a successful event which addressed new topics and fresh ideas.
DQS Academy in HK will deliver the training to other local auditors by the trained trainer, as an effort to continually improve the value of audits to our clients.
DQS集團的年度審核員培訓師培訓活動於2019年1月24日至25日舉行。來自50多個國家的約90名經驗豐富的審核員齊聚德國法蘭克福,參加了以ISO 9001質量管理體系, ISO 14001 環境管理體系,ISO 45001 職安健管理體系和ISO 50001 能源管理體系為重點的年度培訓。此次啟動培訓之後將在各國的DQS分支機構進行本地培訓,從而使DQS的審核員能夠在全球範圍內使用與品質爲導向的DQS審核理念進行校對。
在DQS董事總經理就集團的發展和期望發表講話後,與會者在方式多樣的多個研討會交流經驗。重點主體包括替代性的審核方法、法規要求、實效的質量管理、以及基於風險的審核等。
在上述活動之前,汽車業認證培訓(經驗交流)以及航空航天(AS 91xx)培訓於2019年1月23日舉行。來自世界各地的50多名汽車業審核專家和培訓師齊聚一堂,交流經驗,為2019年的審核做好準備。2018年,DQS鞏固了其作為汽車業認證領先認證機構之一的地位。超過90%的客戶成功轉換到新版的IATF 16949標準,並取得接近7%的IATF 16949:2016證書的全球市場份額,DQS在充滿挑戰的轉換過渡年證明了其專業能力。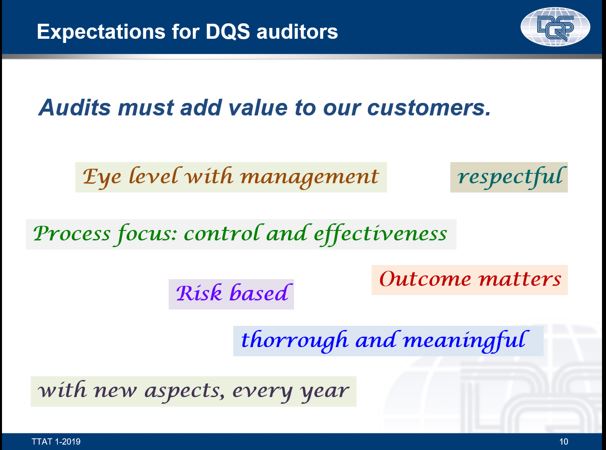 根據參與者的反饋,這是一個成功的年度培訓活動,涉及新主題和新想法。DQS學堂將由經過此培訓的培訓師向當地其他審核員提供轉化培訓和交流,以不斷提高審核對客戶的價值。